Well, I haven't posted lately and I really should post more often to get the hang of this blogging thing. Well the 4th fo July was fun. Sal, the kids and I went to Sal's sister and parents house, then that evening the 4 of us went to watch fireworks. Max loves fireworks, he watches them intently and once in a while will let out a little squeal! It's so cute!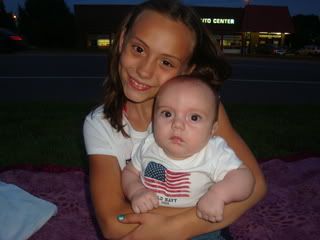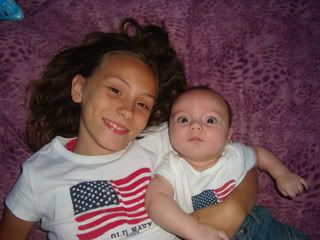 Well last Tuesday the kids and I made the 700 mile trek to my parents house. Cassy is used to the drive, so I wasn't worried about her but this was Max's first road trip. He did amazingly well. Luckily, I had Cassy, she was an amazing helper. We stopped every 3 hours or so, so that I could nurse Max and used the milk we thawed as a backup until we could get pulled over. It worked out great. Max did have a meltdown about 30 minutes before we got to my parents house, so we stopped and of course it started storming. LOL We made it safely and will be here until the end of the month. My sister is turning 21 on Thursday and dad leaves for 2 years in Pakistan on Sunday.
Sal of course is missing the kids. He keeps thinking that Max will be walking by the time we get home. But we know 4 month olds don't walk. :)
That's all for now. Have a great day!